This is an in-depth generatepress review. In this up to date review, we are going to learn more about
What is GeneratePress?
Why use GeneratePress Premium Theme?
Key Features
Premium Modules
GeneratePress Speed Test
Discount
5 GeneratePress Features That Make It Unique
Lots more
Why I migrated to GeneratePress?(generatepress review)
The mobile-first update by Google is the reason I made the change from my previous theme i.e FocusBlog to GeneratePress.
I wouldn't tell that my previous theme waps not mobile-friendly, but there was a room for improvement particularly when used along with page builder plugins.
Added to that, the FocusBlog was lacking in powerful customization features that GeneratePress offers you.
When I first migrated to the new GeneratePress theme, the customization of the design to reflect my brand was one of the challenging tasks.
So, I bought GeneratePress Premium as it comes with dozens of modules for customizing every aspect of the theme. Tweaking the new GeneratePress theme to match my brand turned out to be easier than I thought due to the robust customization options.
GeneratePress is a free theme, but the free version comes with limited customization options. However if you are comfortable with CSS you can go ahead. Although I have some CSS knowledge, I decided to go with the premium version and chose a cleaner way of customizing the stuff.
Here are some of the key areas where GeneratePress excels:
Light and mobile responsive: The theme is coded well and the theme size is very light. This ensures that your site loads very fast.
Modular design: The GeneratePress comes with 14 modules that enable you to leverage the functionality of the theme. In future, they will easily scale up the features offered by the theme by virtue of its design.
Developer friendly: GeneratePress comes with inbuilt options for you to add hooks and filters without altering the theme files that get reset after the theme is updated. This is a very useful feature.
GeneratePress Review: A Quick Introduction
GeneratePress is a multipurpose WordPress theme, which means that you can adapt it to any website niche.
According to WordPress.org, GeneratePress is active on over 100,000 sites and has also managed to maintain an incredible 5-star rating on over 692 reviews.
The core GeneratePress theme is 100% free. And then there's also a GeneratePress Premium version. GeneratePress Premium is technically a plugin that you install alongside the free theme. It extends the theme with even more functionality.
If you are thinking of running a WordPress blog or changing the existing theme in the blog then let's explore more about the GP Theme.
Let's go…
GeneratePress is one of the best and fastest WordPress Theme right now. This theme has a free and premium version. In this GeneratePress review, we are mainly going to focus on the premium version. Also at some point, we will talk about GP free version too.
GeneratePress Review – Step By Step Guide
In this extensive GeneratePress Review, we will look after every feature that is available while purchasing the theme and how to use the entire theme and build a website.
What is GeneratePress?
GeneratePress is a free lightweight multipurpose WordPress theme, you can use the theme to create a blog, to create a business site, portfolio site, to build an eCommerce site using Woocommerce plugin, etc using the premium version.
Features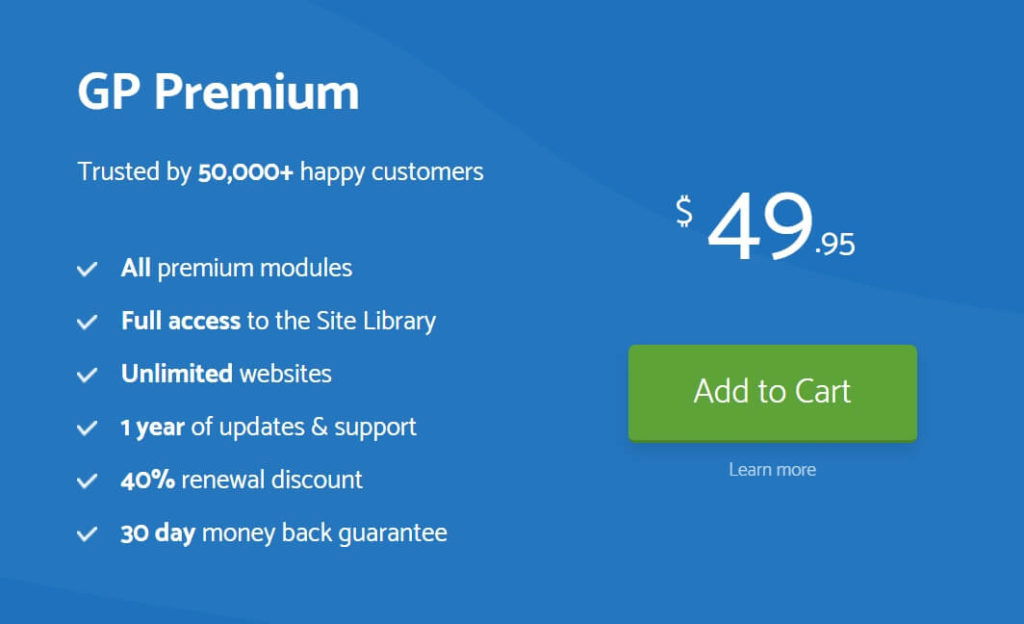 Before starting our GeneratePress review let's know more about GP Theme.
It is a WordPress Theme
It is a lightweight Multipurpose Theme.
The price of the theme is $49.95.
30 days money-back guarantee without any question asked.
1 year of updates and support.
Tom Usborne, Founder, and Lead Developer.
40% off on yearly renewal.
Use the theme on Unlimited Sites.
Dedicated Team and Time for Development and Support.
The GP Theme is Gutenberg Ready.
Fully Translated over 25 languages.
Fully Supports RTL languages.
Full access to premium modules and site library.
GP and WPML are fully compatible.
Generatepress Free vs Premium
If you are comparing Generatepress free vs premium then you know that premium version has lots of features. If you are going to use a free version then you can download the theme without paying any charges from the Generatepress official site.
For the premium version, you need to pay $49.95 as I have mentioned above. You can customize the theme according to your choice. There is an over 46+ site demo where you can import before creating the site and edit it. You can find all the things about GeneratePress Premium Modules in detail below:
GeneratePress Premium Modules
In the premium version of GP Theme, you can find various features. You can explore all modules like Backgrounds, Blog, Colors, Copyright, Disable Elements, Elements, Menu Plus, Secondary Nav, Sections, Site Library, Spacing, Typography.
To enable all premium modules Appearance > GeneratePress > Modules > Activate
Backgrounds: Backgrounds Module helps to add background images to the site.
Blog: Customize the feature image, columns, archive using the Blog Module in the Customizer section.
Colors: Play with different colors in the body, header, Navigation, Widgets, Footer section.
Copyright: Edit or Change the copyright of the website in the footer section.
Disable Elements: Turn off various elements through the different posts/pages of your site.
Elements: The most important modules of GeneratePress Theme – add dynamic heros, advance hooks that help to customize the theme.
Menu Plus: Menu Plus Module helps to make the menu sticky, off-canvas navigation, mobile header, etc.
Secondary Nav: With Secondary navigation, you can add an extra menu with colors, typography, layout, etc.
Sections: Break out the content and make it more beautiful using the Sections Module.
Site Library: Enjoy over 46+ libraries, import the demo site and content and launch your site quickly.
Spacing: Manage Margin and Padding using Spacing Modules, control the size in GeneratePress.
Typography: Select over 70 different Google fonts to style your site.
Woocommerce: Install woocommerce plugin and Activate WC module to style product, checkout pages on your e-commerce website.
Background
Background Module helps to add background images to the site. The eligible section has the background options so you can import images and set sizes, positions, etc.
Blog
Customize the feature image, columns, archive using the Blog Module in the Customizer. Select and control options like post date, author, categories, tags, featured images, etc. in the blog module.
Colors
Play with different colors in the body, header, Navigation, Widgets, Footer section. There are over 60+ colors options available into the Customizer.
You can color every part of the theme including body, top bar, header, primary navigation, button, content, forms, footer, widgets, etc.
Copyright
The copyright module helps to edit or change the copyright of the website in the footer section.
Disable Elements
Turn off various elements through the different posts/pages of your site. You can find the disable elements section at the post/page level.
Elements
Element is the most important module of GeneratePress Theme that helps to add dynamic heros, advance hooks, Layout, etc.
Most of the advance features can be implemented by using Elements Module. Users and Developers use this module most of the time to tweak and achieve advance customization.
To activate the Elements modules. Go to
Appearance > GeneratePress > Elements > Activate
Elements Modules has three parts: Header, Hook, Layout.
Header: Header Element can be used to build the header on your site. On this GP Element, you can add a background image, text, etc, and style it. i.e. HTML and CSS are used in this Element to build Page Hero.
Hook: The most powerful feature in GeneratePress Theme is a Hook Element. It helps to insert content into the available hook on your website. Users don't have to create a Child Theme anymore. This element helps to achieve advanced customization in the blog.
Layout: This Element helps to control the Layout in specific posts, pages, categories, Archives, and even in the entire site. It helps to style your site in an advanced form.
Block: Block is the most advanced Element module in GeneratePress Theme. Block Element helps in advance customization using Block Editor instead of using HTML. You can combine Block with GenerateBlocks and create a separate site footer, site header, right-sidebar, left sidebar.
When you use Element, you need to work with Display Rules i.e. you need to set the element to be displayed in different locations. Locations can be anywhere between entire sites, pages, posts, categories, tags, etc.
Menu Plus
Menu Plus Module helps to make the menu sticky, off-canvas navigation, mobile header, etc. Menu plus options can be found on the Customize > Layout where you need to check out respective sections.
Secondary Nav
With secondary navigation, you can add an extra menu with colors, typography, layout, etc. You need to activate Secondary Navigation in GeneratePress.
Appearance > GeneratePress > Secondary Nav > Activate
Sections
Note: In Gutenberg (Block Editor), sections module cannot be used.
Sections are the mini page builder available only in GeneratePress Premium Add-ons. If you are using an advance Page builder like Elementor, Beaver Builder, etc. then you can avoid using sections.
If you are using Classic Editor then you can use sections modules in your post/page with ease. It is easier to build a page with available settings in sections.
With the latest WordPress update, Sections can't be used with Gutenberg Editor. so GeneratePress is building GenerateBlocks – a lightweight WordPress blocks that can accomplish nearly anything. It is compatible with Gutenberg Editor. Read the latest GenerateBlocks Review.
Site Library
After purchasing the premium version, you will get full access to the site-library. You can import the whole library and make your site live quickly.
These site libraries can be imported with GeneratePress options and demo content. If you have content then you can skip the demo content. GeneratePress sites use default WordPress Editor, Elementor free or Pro version and Beaver Builder to create some of the demo sites and content.
Importing site library is easy and can be imported quickly. To import a demo site you need to Activate the Site Library in Premium Modules.
Appearance > GeneratePress > Site Library > Activate
Now, you will get full access to the site-library, Appearance > GeneratePress > Site Library, Import the desired site and content on your site. There are over 46+ demo sites in the site library section and it is increasing steadily with nice layouts theme.
Spacing
The spacing add-ons help to manage margin & padding and control the size in GeneratePress. You can use this module in the header, menu item, container separate, sidebar width, content padding, width padding, footer widget & footer padding, secondary menu, etc.
Typography
Choosing fonts is crucial when you are creating a site. In the typography module, you can select over 70 different System fonts and Google fonts to style your site.
You can customize fonts of each area in the GP theme. You can change font family, font variants, Font weight, font size, etc in the header, footer, sidebar, body, menu, etc.
Also, to optimize and speed up your site, you can host the google fonts locally in WordPress.
Woocommerce
Woocommerce is a plugin for WordPress to create an e-commerce site. It is a free and open-source plugin. so before using this module you need to install and activate the Woocommerce plugin on your website.
Woocommerce modules help to customize your product pages, checkout pages, etc. using colors, layout, typography options in your site.
Support
The main things to look before purchasing any theme is to look after their support. GeneratePress Theme has two versions, free and premium. Free GP Theme has 900+ 5-stars ratings on wordpress.org and the support is quite impressive.
GeneratePress premium support is best and I rate the support as 5/5 stars for the eagerness to help and solve the issue. Leo, David, and Tom himself are willing to solve the queries raised by the clients.
I, myself have asked around 20+ questions in the time of writing this review and almost all my problems were solved. This is a screenshot of the few topics that I have asked in the support forum.
Documentation
As always, documentation is a crucial part of every project and GeneratePress Theme has the best documentation part. You can find an in-depth guide about each and every module, customization, Hooks, Filters, etc.
You can access GeneratePress Theme Documentation at docs.generatepress.com. The documentation is divided into four parts, it is easier to navigate and search any tutorial within the knowledge base.
Let's say you want to know about Elements in GeneratePress then you can search it and find extensive documentation. They have properly explained each and everything in their documentation.
Moreover, you can search for every related problem via Google Search, the official GP Theme documentation ranks higher in SERPs. so, it is easier to find everything in Google too.
How to install GeneratePress Premium WordPress Theme?
To activate GeneratePress Premium Theme, first, you need to install a free version of GP Theme. You can install it within
Visit Appearance > Themes > Add New
Search GeneratePress
Install and Activate the Theme.
After activating the free theme, you need to download the GP premium plugin from the official site.
Visit the GeneratePress site.
Click on Log in Menu.
Login using Username and Password.
You will be redirected to Download Section.
Download GP Premium.
And then go to your WordPress Dashboard.
Go to Plugins > Add New.
Click on Upload Plugin.
Browse GP Premium.
Install and Activate it.
Go to Appearance > GeneratePress.
Enter the License Key.
Activate the necessary GeneratePress Modules.
Now enjoy the premium version.
How To Download, Install & Activate GeneratePress Theme For Free?
After using WP Astra, OceanWP, Publisher, Genesis Framework, finally I stopped looking for the best WordPress theme.
Allover, getting started with GeneratePress was one of the best ever decision I made in whole blogging career.
Though this theme is absolutely free to use, there are still people looking for answers like:
How to download GeneratePress free?
How to install GeneratePress theme?
How to activate GeneratePress on WordPress site?
But don't worry, here your queries end. In this tutorial, I will show you, how to download, install and activate GeneratePress theme for free.
So let's get started.
How to download GeneratePress free?
There are 2 ways to get GeneratePress theme downloaded for free.
1.GeneratePress Website – Visit generatepress.com/install-generatepress/ page and click on the Download button to save theme file in your computer.
2.WordPress.org – Visit wordpress.org/themes/ and search for GeneratePress. Once the theme appears, click on the image and tap the Download button to start downloading.
How to install & activate GeneratePress Theme?
Installing and activating a theme on WordPress is so easy. Let's start:
Login to WordPress Admin Area, tap on Appearance >> Themes >> Add New >> Upload Theme.
Click on the Upload button and upload the file you downloaded in recent steps and then tap Activate to make GeneratePress live on your WordPress blog.
So, like this way, you can free download, install and activate GeneratePress theme on a WordPress website.
Bottom Lines
Undoubtedly, GeneratePress is yet simple but attractive, fast and mobile-friendly WordPress theme. Honestly, I have never face any issues with it from last 1 year.
By the way, you are just started with GeneratePress, I recommend you don't forget to take a look at our tutorial page to explore more features.
If you want more creativity, don't hesitate to invest some dollars in GeneratePress Premium (GP Premium).
Believe me, it values the money you spend on buying the pro version. Here is the discount link.
I hope after reading this article, you understand how to download, install and activate GeneratePress theme free version.
Page Speed – Is GeneratePress the Fastest Theme?
Google states that Speed is a ranking factor so, for both desktop and mobile version your site needs to be very fast. Mostly user visits sites from mobile using 2G, 3G, 4G or even using WiFi, so it is crucial to load your site faster on the mobile version.
Search Engines like Google look after 200+ ranking factor and page speed is one of them. so speed is one factor that helps to outrank your competitor in SERPs.
Therefore, the GeneratePress team is behind you to help better in speed and accessibility.
Before starting GeneratePress Speed Test, you need to use some of the speed optimizing plugin and to tweak settings to optimize your website.
Here, Tom has created a speedtest.generatepress.com subdomain to test GeneratePress Theme using Autoptimize plugin to optimize and here is the result.
Tom call GeneratePress 3.0 – A New Era update as it is one of the most important updates in the history of GeneratePress. With GeneratePress 3.0, Tom has made the whole theme, even more, lightweight than before saving 55% by combining 3 CSS to one main.min.css reducing 3 HTTP requests to one, and lots of changes in the codes.
The Core Web Vitals is crucial factors too look after as Google considers speed as a ranking signal. Google's Core Web Vitals mainly looks after Largest Contentful Paint, First Input Delay, and Cumulative Layout Shift. We can get huge benefits with GP 3.0, so update to the latest version wisely.
Moreover, Tom decided to test 3.0 version with Google Lighthouse, and here is the result.
Personally, I am using Cloudways hosting, WP Rocket plugin, and BunnyCDN in this website and after optimizing, I manage to get a 100/100 score in GTMetrix.
I have tested my website even in Google PageSpeed Insights, the result is amazing.
I manage to get a 97/100 score for Desktop and 100/100 for Mobile Version. so, by these tests, I can say GeneratePress is one of the fastest themes available in the market.
GeneratePress Discount
If you are thinking to purchase GP Premium Theme then you may be searching for GeneratePress Coupon Code or GeneratePress Promo Code.
The first thing is that you can claim a 10% GeneratePress Discount while purchasing the theme for the first time.
After the first year, you will get a 40% renewal discount which is a pretty good gesture from Tom Usborne and the GP Team.
If you are searching for a 50% discount for the GeneratePress Premium theme then you might get on their anniversary but it is not sure.
Furthermore, GeneratePress might provide up to 25% GeneratePress discount coupon during Black Friday or Cyber Monday. Black Friday/Cyber Monday sales happen once a year.
Personally, I receive a 25% discount during GeneratePress Black Friday/Cyber Monday. Here is the proof.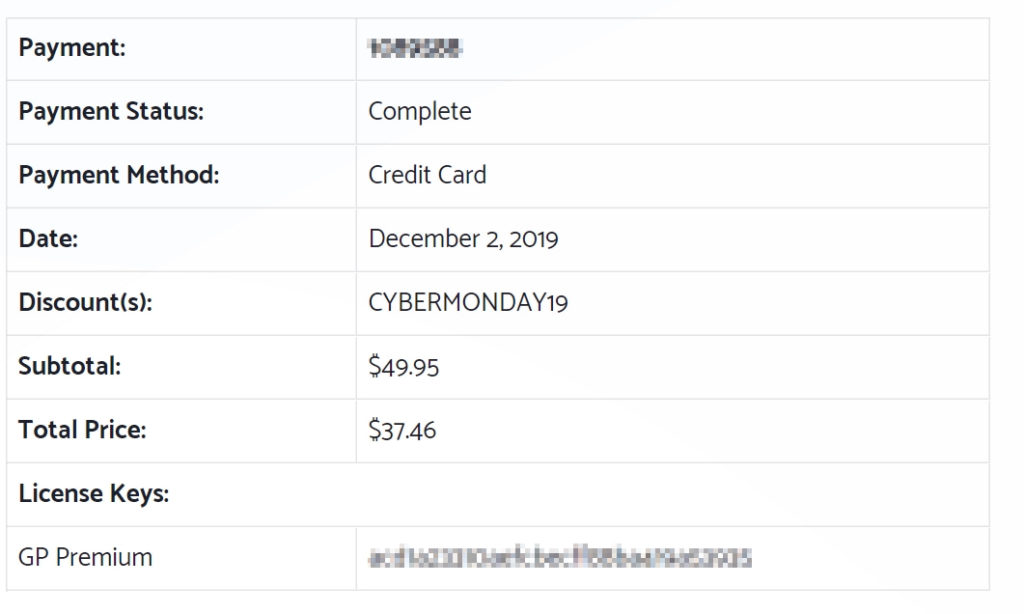 GeneratePress Lifetime: As compared to Astrawp WordPress Theme, GeneratePress doesn't offer a lifetime deal. AstraWP has two kinds of licenses: one is annual renewal and the other is a lifetime deal. Astra Pro, Mini Agency Bundle and Agency Bundle are three kinds of pricing modules available in Astra Theme but there is only one pricing module in GeneratePress i.e. annual renewal with a 40% discount and thus, there is no GeneratePress Lifetime deal.
Flexbox Grid vs Legacy Floats
With GeneratePress 3.0, by default new sites are going to use Flexbox Grid but for exisiting users by default you are going to use Floats grid system.
Flexbox Grid version is lightweight than the Legacy Floats grid system, where existing users can switch between floats and flexbox from Customizer.
Note: Your layout may be changed when switching from floats to flexbox so be careful while changing.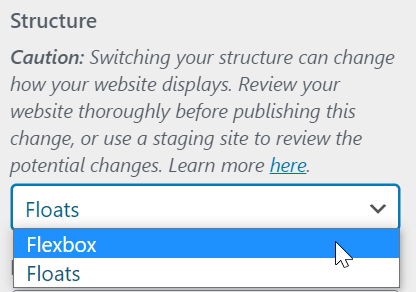 Go to Appearance > Customizer > General.
Choose between Flexbox and Floats in Structure Option.
Hit Publish Button.
External File Dynamic CSS
With the GeneratePress 1.11.0 update, you can see lots of changes, mainly the performance improvements.
And here we can see one feature called Dynamic CSS Print Method.
Before, GeneratePress used to add the Inline CSS file below the main stylesheet. Now, GeneratePress has added an option to generate your dynamic CSS in an external file. This feature helps in significant performance improvements.
Go to Appearance > Customizer > General.
Choose External File option when asked Dynamic CSS Print Method.
Click on Regenerate CSS File and Hit Publish Button.
List of Plugins for GeneratePress WordPress Theme
I always try to avoid the excessive use of plugins in my blog. But there are some of the best plugins that you can't generally avoid in WordPress. You need plugins to add extra features and functionality to your blog.
Here, I am going to share some of the important plugins I have been using on my GeneratePress site.
Akismet Anti-Spam – Akismet WordPress plugin helps to block spam from our blog.
BunnyCDN – Improve the loading time of your WordPress site using BunnyCDN (Cheap as ~$1/month). Also Read BunnyCDN Review.
CAOS – Host Google Analytics Locally to improve the loading time of your website.
Code Snippets – Add PHP code to functions.php without creating a child Theme.
LuckyWP Table of Contents – Create a user-friendly Table of Contents automatically. You can also create table of contents in WordPress without plugin.
Limit Modified Date – Prevent the date to be modified while making minor changes to your content.
Scriptless Social Sharing – Add Social Sharing button to your posts and pages without loading any JavaScript. It helps to improve the loading time of the website. I have also created my own social sharing buttons for GeneratePress without plugin.
WP Rocket – Load your WordPress website within a second. The Best WordPress Caching Plugin.
WP Show Posts – WP Show Posts helps to create the list and allow you to insert anywhere in the website with the help of shortcodes.
Even though GeneratePress is the fastest and lightweight WordPress Theme, there are some of the competitor themes in the market that matches the level of GeneratePress.
Before buying any theme, Users like to compare the products. Here, Users often search GeneratePress vs Astra vs Oceanwp and compare between these awesome themes. Let's compare Generatepress vs Astra vs Oceanwp vs Genesis Themes Vs hello Vs
Astra
As you are looking for the super-fast performing and fastest growing theme like GeneratePress, I would like to introduce WPAstra for you! It is a brilliant theme that offers complete design freedom for you, and yes, coding knowledge is not necessary.
With the help of a visual theme customizer, you can get the site look that you prefer, and you may make use of the attractive pre-built site designs to save your precious time. You need to visit their library to take the pixel perfect ready to use demos.
If you are going to build a distraction-free online course website with WordPress, then WPAstra is an ideal one because it has LifterLMS and LearnDash integrations. Besides, it has fantastic site layouts, color, and background options which are best suitable for Woocommerce site owners, and Bloggers.
Exceptional Features Of WPAstra
Free Version Available
Lightweight theme (less than 50 kb)
Superfast theme load within 0.5 seconds
Simple and Clean design
SCHEMA Integrated
SEO Optimized & Gutenberg ready
Customize Everything Easily
2000+ 5 star ratings
Works best with Elementor
Unlimited Site usage for Single Licence
20+ free starter sites
24 x 7 support
What Makes WPAstra Better Than GeneratePress?
No doubt, WPAstra is the best GeneratePress Alternative because of its speed performance. To meet the users' expectations, it provides unparalleled performance with 0.5 loading speed through its feather lightness nature and Vanilla javascript instead of jQuery.
Besides, the layouts of blog layouts and global design options of WPAstra are exceptional when compared to the GeneratePress theme. Free demo sites, mega menu, and Woocommerce support are the few more additional qualities of WPAstra that make it stand out.
OceanWP
With more than a million downloads, how could I leave OceanWP out of this list of GeneratePress alternatives? This best WordPress theme is designed for speed performance and also works well with the best page builders in the industry.
This fully responsive design has been built with the best SEO practices in mind, and its power can be extended with useful addons. Having the extensible codebase, it makes you enjoy while doing the customizations.
I'm sure you will adore its free & pro demos and pick the best suitable one for your business website. As it is available for free, you can test the features before buying and then go with the premium versions with a bundle of extensions at a discounted price.
Enchanting Qualities Of OceanWP
Free Version Available
LightWeight and hence fastest loading theme
SEO optimized
Gutenberg Ready
Build Websites Easily
Simple and Clean design
Ecommerce Ready
Stick anything like header, sidebar
Compatible with all types of page builders like Elementor, Divi, visual composer
Why Is OceanWP More Preferable Than GeneratePress Theme?
With OceanWP, you could build a personalized website for your business brand. Like GeneratePress, it also works well with the well-known page builders (Especially with Elementor) with which you could get a unique look for your professional business site. It has better Woocommerce integration as well.
Coming to speed performance, OceanWP loads fast for better user experience. You could build an impressive eCommerce website, and the native cart popup helps you to boost the conversion. Till now, it has earned more than 2500 5-star ratings, and GeneratePress had just 900+ reviews.
Genesis Themes
Genesis themes from StudioPress are well-known for SEO-friendliness and easy customization through custom widgets and layout options. It is highly mobile responsive and provides pre-made templates to build your business site.
One-click demo install, auto-sized featured images, and state-of-the-art security are the fantastic qualities of Genesis themes that pleases the WordPress users to bring a unique look for their site.
From these Gutenberg ready themes, you will get unlimited updates and support from the customer care and community forum. Most of the genesis themes are ready for advertising, and hence they are well suitable for the Affiliate marketers to make more conversions.
Unique Characteristics Of Genesis Themes
Simple blog design
lightweight theme
Very well optimized for SEO
Gutenberg Ready
Child themes available for all types of blogs and business sites
SCHEMA Integrated
Unlimited Site usage for Single Licence
How Genesis Themes Are Superior To GeneratePress?
You are paying a one time fee for the Genesis Framework + child theme; however, you need to renew the license every year for GeneratePress.
Moreover, if you are making high-end professional websites, then Genesis is the best GeneratePress alternate. You will get the opportunity to network with experts and programmers in the Genesis forum community.
Hello
Wondering with the fast loading theme from the king of page builder, Elementor? Yes! You heard it right. It's Hello theme with which you can create beautiful landing pages that load ultra-fast to boost your conversions.
This GeneratePress free alternative is compatible with the well-known WordPress plugins and supports Woocommerce features as well. If you are a WordPress designer or developer or dedicated blogger, you are going to love this theme as it is the fastest SEO theme with non-intrusive essential codes.
When you need to do the customizations, go through the Hooks available in the theme. The page size, loading time, and the no. of requests are very less when compared to other popular themes, and hence, it is a perfect fit for the small business sites to surpass the competitors.
Amazing Upsides Of Hello Theme
Free Version Available
Perfect Free Elementor Theme
Build Better Landing Page for Conversion
Free WordPress Theme
Lightweight Theme
Super Fast loading theme.
Compatible with Woocommerce
RTL Supported
SEO Optimized
Responsive Design
Fully Compatible with Most Popular WP plugins
Developer friendly theme
Why Choose Hello From Elementor Instead Of GeneratePress?
Sometimes, we want a plain fast loading theme with no widgets, menu, and sidebar and would like to add the needful at the appropriate places as per our requirements. The same thing you can do with the Hello theme. It contains only the default header & footer, and yes, you have to add everything from the Elementor page builder. Thus, it is an ultimate speedy theme!
Moreover, it is entirely free so that your budget for the site design would be less. Likewise, when it comes to speed, it could perform better than Generatepress because of having very fewer HTTP calls.
Schema
Schema is the fastest SEO WordPress theme from MyThemeShop which helps you to attain higher search engine rankings and improves the user experience. The codes are not only light-weight, but they are also secure and battle-tested for optimal performance.
This user-friendly WordPress theme has ad-setting options, and hence, you can use the pre-built ad-slots instead of relying on a 3rd party plugin. Supporting the shortcodes is an admirable feature of Schema which lets us easily extend the functionalities.
As the code is precise and secure, it creates trust in the eyes of Google. We are using this theme for many of our niche blogs and having an outstanding experience & result so far. Its simplicity and ease of use are the primary reasons for its top performance.
Impressive Highlights Of Schema
SCHEMA Integrated
Fully SEO Optimized
Ultra Speed
In-built review System
Ad Management
Powerful Option panel
Secure & Light Weight Coding
Useful Shortcodes
Integrated Social Media
How Is Schema Better Than GeneratePress?
It is an incredible alternative to GeneratePress theme because it is also compatible with Elementor builder, 100% responsive, demo data included, and unlimited site license availability.
Schema has user-friendly settings as well, and yes, it is more flexible settings options than GeneratePress.
When the price of Schema and GeneratePress are compared, Schema is cheaper, and it is worth spending on the fast-loading ability.
5 GeneratePress Features That Make It Unique
Here are some of the specific features that explain why GeneratePress is so popular.
1. Optimized Performance And Fast Page Load Times
Across all of its features, GeneratePress always has a focus on excellent performance and clean code. The entire theme is less than 30 kB, which is about as small as you'll ever find for a WordPress theme. Even most other optimized WordPress themes are still 200+ kB. And some poorly coded themes can even exceed 1 MB!
GeneratePress also has no code dependencies, which helps you avoid the render blocking error that Google Pagespeed Insights often mentions.
Put that together, and you get a superfast-loading theme. How fast? To give you an idea, I ran a little test.
First, I set up an empty site using a random popular WordPress.org theme (Envo Magazine). After testing its performance with Pingdom, it:
Had a performance grade of 77
Loaded in 1.05 seconds
Had a page size of 243.9 kB
Had 15 requests
That's not bad at all! But GeneratePress can do better.
Next, I activated GeneratePress on the same test site without changing anything else. Here's how GeneratePress did:
Had a performance grade of 87, 10 points better
Loaded in 666 ms, ~37% faster
Had a page size of 26.8 kB, ~90% smaller
Had 9 requests, ~40% fewer
If you perform that same test with other themes, you'll continue to see that GeneratePress is one of the fastest-loading WordPress themes in existence.
2. Lots Of Customization Options In The Real-Time WordPress Customizer
Beyond performance, another area where GeneratePress does well is its customization options.
GeneratePress uses the WordPress Customizer for customization, which is convenient because you'll be able to see all the changes that you make in real time.
The free version of GeneratePress gives you decent options, but if you have GeneratePress Premium, you'll be able to customize pretty much everything about your site.
For example, if you go into the Layout area, you can configure detailed settings for your:
Header – you can move your header around and change its styling
Navigation – GeneratePress gives you two different navigation options, including sticky menus
Sidebar layout – you can use one or two sidebars
Blog post layout – like featured image size, metadata, etc.
Footer layout – like how many widgets to include
Similarly, the Typography area lets you control the font for every single element on your site, including buttons:
And you also get a detailed area to control the color of every single element on your site.
All in all, GeneratePress will give you a lot more customization options in the WordPress Customizer than most other themes. This level of detail might be a little overwhelming if you're a beginner. But once you understand how the settings come together, you'll have full control over how your site looks.
3. Page-Level Settings Give You Detailed Control Over Each Piece Of Content
With most themes, each post and page will use the same settings for the most part. You might have some custom templates or formats – but you don't have very much control beyond that.
GeneratePress changes that by giving you a new Layout meta box for every single post and page:
You can use this meta box to:
Change how many sidebars your site uses, or the sidebar orientation (like changing the sidebar from right to left)
Choose how many footer widgets to use
Disable certain elements, like your header, navigation menu, post featured image, post title, or footer
Create a special "container" for your page builder
Where these controls are the most helpful is if you're using a WordPress page builder.
By disabling certain elements, you're able to create the proper baseline for your page builder design, which makes it easy to create custom content as needed.
4. Pre-Made Starter Sites Make It Easier To Design Your Site
In the past, you had to build GeneratePress sites from a blank canvas no matter what, which made the theme difficult for casual users to set up.
Earlier in 2018, though, the developer added a new Site Library feature for GeneratePress Premium users that lets you easily import any one of the 25+ pre-built demo sites.
You can import them right from your WordPress dashboard:
And after the import process, your site will look exactly like the demo:
Yes – this site still uses GeneratePress! All I did was click a few buttons to import a demo site.
5. Other Helpful Premium Extensions, Plus A Modular Approach
Beyond giving you more style controls in the WordPress Customizer, GeneratePress Premium also comes with a lot of other helpful features like:
Elements – a unique feature that lets you create custom hooks, page headers, or layout templates.
Page Header – lets you create a unique page header on a per-page basis.
Sections – this is kind of like lightweight page building. It lets you create separate "sections" on a page, each with their own layout and column settings.
To stay lightweight, GeneratePress also gives you a modular interface where you can pick and choose exactly which features you want to activate:
That way, you don't need to slow your site down for a feature that you'll never use.
GeneratePress Pricing: Affordable And Works On Unlimited Sites
The core GeneratePress theme is available for free at WordPress.org.
That said, if you're serious about using GeneratePress, I feel you should purchase the GeneratePress Premium plugin, as that's what makes the theme so flexible. The free version doesn't give you nearly as many settings in the WordPress Customizer. And you'll also miss out on the premade Site Library.
GeneratePress Premium is also still quite affordable. It costs just $39.95, and that gives you use on unlimited sites. You'll also get a 40% discount if you want to renew to continue receiving support and updates after the first year (you can, of course, keep using GeneratePress after the first year without renewing – you just won't get any more updates).
When you consider that the typical premium WordPress theme will usually cost around $60, GeneratePress offers a great value.
GeneratePress theme examples
12 GeneratePress Theme Examples on Real WordPress Sites
1. Woorkup.com
Woorkup.com is a marketing blog run by brothers Brian and Brett Jackson. Brian actually works at Kinsta, so it's no surprise that he also uses them to host the site. Woorkup expertly uses all of the customization GeneratePress Pro has to offer, crafting a design that looks, feels and performs like an expensive custom site (but we know it only cost $49.95 for a lifetime theme licence!).
I love the look of Woorkup.com, its non-nonsense flat design, with bold responsive menu and focus on clear, easy-to-read content. The sidebar is used to promote sticky offers when scrolling down the page (on desktop)
Woorkup is a popular site with around 300,000 monthly pageviews, and it loads at lightning speeds – great for SEO and UX.
The Woorkup brothers are big fans of GeneratePress:
Kudos to the developer because he knows how to code properly, keep things lightweight, and still include schema markup & rich snippets, which are things most competitors don't.
I was worried that Woorkup.com had a lot of custom code on top of GeneratePress, because co-founder Brett Jackson is a WordPress developer, but apparently they did very little aside from using the built-in customizer in the pro version. Brian elaborates:
That's the best part…. I didn't edit the theme once. I did use some code snippets to hook in…. And a little CSS. But to be honest, everything was configured using GP options. The header, menu, search, sidebar, featured images, etc… everything was done with GP premium add-ons 🙂
If you buy GeneratePress premium, you can recreate the design of Woorkup is a couple of clicks by using the pre-built Site Library and installing the Marketer demo site content.
I've been so impressed with Woorkup.com and GeneratePress that I'm now in the process of switching some of my sites from Genesis to GeneratePress (watch this space…) I now use GeneratePress on this site!
Oh, and Brian and Brett also use GeneratePress on a bunch of their other sites (like nutrition blog NoGluten.com and finance blog PennyBros.com) with pretty much the same layout:
Theme: GeneratePress Premium
Plugins: Lightweight Grid Columns (by GeneratePress) WP Show Posts
Traffic Estimate: 300,000 monthly pageviews
Speed: 568 milliseconds to load 291kb
Hosting: Kinsta
2. LearningGuitarNow.com
LearningGuitarNow.com is a popular guitar tutorial website run by guitarist John W Truggle.
I particularly like how LearningGuitarNow makes best use of GeneratePress' Premium page section feature on the homepage, with a bold headline, imagery and excellent CTAs (call-to-action). The blog, podcast and video lessons are neatly organized using the GeneratePress blog grid, with emphasis on the images and clear typography.
Overall, I think LearningGuitarNow is a great example of how GeneratePress can be used to optimize for UX by making navigation and CTAs very clear.
Theme: GeneratePress Premium
Plugins: WPRocket
Traffic Estimate: 35,000 monthly pageviews
Speed: 1.27 seconds to load 597kb
Hosting: TierPoint
3. 12MinuteAthlete.com
12MinuteAthlete.com is a very successful fitness website run by California-based athlete Krista Stryker.
12 Minute Athlete looks and feels like an expensive custom site, and it uses GeneratePress Premium very well to achieve this effect. Using the custom colors pro feature (white and bright red), and bold page sections, 12 Minute Athlete manages to look consistent while also promoting many different types of content – a blog, app, recipes, workout routines and even a store. The site also uses the Thrive Leads plugin to optimize for email subscriptions.
Like other sites I've reviewed, 12 Minute Athlete keeps the layout simple and clear, with an emphasis on clear headlines and custom images. Almost good enough to persuade me to exercise more!
Theme: GeneratePress Premium
Plugins: Thrive Leads
Traffic Estimate: 35,000 monthly pageviews
Speed: 1.58 seconds to load 5.6MB
Hosting: routed through CloudFlare
4. TheHealthyApron.com
TheHealthyApron.com is a health and fitness blog that gets a healthy (!) 64,000 monthly pageviews in a competitive niche – 85% of the site's traffic also comes from organic search, so I'm pleased to see that GeneratePress is delivering the right on-page SEO functionality (something that's been lacking in other themes and the reason I've been using Genesis for years).
The Healthy Apron is a clean and well-organized blog, with emphasis on clear typography and links to related posts. The homepage is actually a landing page designed using Thrive Architect, but the rest of the site makes use of GeneratePress' features, including Google Ads blocks, and makes additional revenue by converting traffic to the Amazon affiliate program.
Theme: GeneratePress Premium
Plugins: Thrive Architect
Traffic Estimate: 64,000 monthly pageviews
Speed: 1.19 seconds to load 1.6MB
Hosting: InMotion Hosting
5. SkyMania.com
SkyMania.com, is a niche space and astronomy news site, which gets most of its traffic from search engines. The design of SkyMania is very simple: a clean blue and white color palette with clear navigation.
I've included SkyMania in this list because it's a great example of what anyone can achieve with GeneratePress (premium was used to allow custom colors). You don't need bells and whistles, just a simple blog layout that's optimized for speed and SEO.
Theme: GeneratePress Premium
Plugins: Better Click to Tweet
Traffic Estimate: 9,000 monthly pageviews
Speed: 1.7 seconds to load 173kb
Hosting: SiteGround
6. FeedGrabbr.com
FeedGrabbr.com is a SaaS (software-as-a-service) website that makes RSS widgets for websites. The homepage is a great example of how to showcase a SaaS product – clear sections describing the product and its benefits.
The page sections and simple color scheme make the site look uber professional and authoritative, and can all be achieved in GeneratePress without any special coding or design experience.
I've actually been inspired to sign up for the free account and try out their product!
Theme: GeneratePress Premium
Plugins: Elementor Pro
Traffic Estimate: 6,800 monthly pageviews
Speed: 3.87 seconds to load 5.6MB
Hosting: routed through CloudFlare
7. StrongLifts.com
StrongLifts.com is a successful weightlifting blog started by Belgian lifter Mehdi. For such a popular site (1.5 million monthly pageviews), Strong Lifts is surprisingly simple on site design and layout. The site's popular guides (like "How to Squat") use very minimalist design – no sidebars or distractions, emphasis on the content and images and a page layout that looks the same on mobile and desktop.
Strong Lifts uses GeneratePress' footer section to link to the site's long-form guides and email sign-up. Overall, I think Strong Lifts demonstrates how you can build a simple, no-frills WordPress website and drive a lot of traffic to your content.
Theme: GeneratePress Premium
Plugins: Table Of Contents Plus, Speed Up Lazy Load
Traffic Estimate: 1.5 million monthly pageviews
Speed: 977 milliseconds to load 445kb
Hosting: routed through CloudFlare
8. TrueLook.com
TrueLook.com is an e-commerce website that specializes in construction cameras. It's a very specific niche, but the site gets impressive traffic numbers (over 100,000 monthly pageviews) and looks very original and professional, despite using the same $49.95 GeneratePress theme that other sites do.
True Look uses page sections to great effect on the homepage – clearly taking potential customers through the different features and benefits of their product. The blog section is nothing special, but it's the page sections and footer links that help users navigate the website and find the information they need.
Theme: GeneratePress Premium
Plugins: Disqus, W3 Total Cache
Traffic Estimate: 113,000 monthly pageviews
Speed: 1.56 seconds to load 51.MB
Hosting: EasyDNS
9. MollyGreen.com
MollyGreen.com is a niche magazine, focusing on homesteading, homeschooling and related topics. The site uses GeneratePress to design a clean, simple layout with an emphasis on post images. The top menu, footer links, breadcrumbs and post sidebar suggestions fill the site with internal links – ideal for SEO and keeping users on the site for longer. Of course, it's also responsive for any mobile device.
The homepage post layout is organized into a neat grid thanks to GeneratePress' free Lightweight Grid Columns plugin.
My favorite feature of MollyGreen.com is its page size – less than 1MB for a webpage with lots of images is amazing, and that helps the site load very quickly, especially on mobile devices.
Theme: GeneratePress Premium
Plugins: Lightweight Grid Columns (by GeneratePress)
Traffic Estimate: 1,000 monthly pageviews
Speed: 1 second to load 618kb
Hosting: routed through Cloudflare
10. Blog.RoyalMint.com
Blog.RoyalMint.com is the official blog for the UK's Royal Mint- the company tasked with issuing all of the UK's coins.
The Royal Mint's blog is simple, clear and well laid-out. There's not much to the design, but GeneratePress makes it look clean and functional, with large headlines branded in the official logo color. Its minimal, content-first design is one of the reasons that I believe the Royal Mint's blog was a finalist at the UK Blog Awards in 2017.
Theme: GeneratePress Premium
Plugins: Lightweight Grid Columns (by GeneratePress)
Traffic Estimate: 20,000 monthly pageviews
Speed: 4.89 seconds to load 5.8MB
Hosting: Net Names
11. EnvironmentalLeader.com
EnvironmentalLeader.com is a trade publication focused on environmental issues. I'm impressed with the custom GeneratePress layout on those site – it doesn't scream "WordPress theme" as so many other sites do.
(I love WordPress, but I love it even more when sites look unique!)
Environmental Leader packs a lot of content into one site, but its design makes navigation clear – different fonts and backgrounds on some sidebar widgets help to distinguish different parts of the site. Overall, a great example of a WordPress magazine site that handles different content types.
Theme: GeneratePress Premium
Plugins: WPBakery Page Builder
Traffic Estimate: 96,000 monthly pageviews
Speed: 4.92 seconds to load 3.2MB
Hosting: GoDaddy
12. KSDC.Louisville.edu
KSDC.Louisville.edu is the Kentucky State Data Center and part of the University of Louisville. The site is very simply designed, with colored page sections to highlight the different data and services KSDC provide. There's no blog, but data is organized well and accessible from the main menu. The large main image, logo and header bar color make the site well-branded and visually distinct as part of the University of Louisville.
Theme: GeneratePress Premium
Plugins: All In One SEO Pack
Traffic Estimate: 1,000 monthly pageviews
Speed: 1.8 seconds to load 937kb
Hosting: Self-hosted
Final Thoughts( generatepress review )
GeneratePress Premium blows a lot of other WordPress themes out of the water. There's something for everyone, whether you're technical or not.
There's no real learning curve to GeneratePress; it can be as complex as you need it to be or as simple as you need it to be.
While it is a multi-purpose theme (which is an ugly word in the WordPress world), it doesn't suffer from a ton of baked-in functionality, unlike other WordPress themes.
With robust theme documentation, friendly support staff, and Facebook Group, there's always someone to help if needs be.
There's no reliance on using page builders with GeneratePress. You can create content and build something quite quickly.
If you'd prefer to build out your site using a page builder such as Elementor, Beaver Builder, or any other page building plugins, GeneratePress plays very well indeed with them.
Combining all the features of GeneratePress, adding Elements, setting display rules, you could create something quite amazing.
If you're looking for a fast-loading, feature-rich theme, and an excellent support team, you will do well to take GeneratePress Premium for a drive. I, for one, can't recommend it enough.
If you combine it with fast-loading hosting, you should have no problem making your site load in under one second.(generatepress review)
---
FAQ
Is it the best theme to be used with landing page builders?
Yes. It is officially recommended by Elementor as one of the best themes to be used along with their page builder.
I'm using GeneratePress along with Thrive Architect, the theme is perfectly functional for me. It's perfectly compatible. It integrates well with Thrive Architect better than the FocusBlog theme I was previously using.
What will happen if I don't renew my license?
Renewal of license is only meant for continued updates and support. The theme will be fully functional even if you don't renew the plan. But, you won't get any future updates released by GeneratePress.The renewal comes at a 40% discount. I won't see any reason not to renew it.
How many sites you can use GeneratePress on?
You can use the GeneratePress free or pro on as many sites as you wish.I won't advise you to use GeneratePress on your clients' sites as you need to share the premium license code with them.
What is GeneratePress Theme?
GeneratePress is a multipurpose light-weight free WordPress Theme developed by Tom Usborne, mainly focusing the performance, security, and usability.
Is GeneratePress free?
Yes, GeneratePress is a free WordPress theme and you can download or install it from wordpress.org directory or from an official website. GeneratePress has a premium version too which costs you $49.95.
What is the best Page Builder for GeneratePress?
GenerateBlocks is the best page builder for GeneratePress. GenerateBlocks is developed by the same developer, Tom Usborne, the person behind GeneratePress WordPress Theme.
Does GeneratePress Theme work best with Elementor?
Elementor and GeneratePress work perfectly in WordPress. Both the free and premium version works flawlessly but the GP Pro version has lots of features.
Is Beaver Builder good to integrated with GeneratePress Theme?
Yes, you can integrate Beaver Builder with GeneratePress Theme. You can find a few themes in the GeneratePress Site Library that are build using Beaver Builder.
Can you use GeneratePress Premium on Unlimited Sites?
Yes, GeneratePress premium theme can be used on Unlimited sites, you can even use GP Theme to build client sites.
Do I need to renew the GeneratePress License?
No, renewing the GeneratePress theme is not compulsory but if you can want to get the latest update then you can renew the theme with a 40% discount.
What is the fastest WordPress theme?
GeneratePress is certainly one of the hot contenders for being the fastest WordPress theme. It is incredibly lean with the default install only being 30kb in size, which is a very small footprint. The theme has very clean code and no bloat giving it excellent load times.
What Elementor means?
Elementor is a page builder plugin that replaces the basic WordPress editor with a live frontend editor, so you can create complex layouts visually, and design your website live, without having to switch between the editor and the preview mode.
What WP theme is?
What WordPress Theme Is That is a free online tool allows you to easily detect what WordPress theme a site uses (including parent and child themes). Additionally, it will also detect what WordPress Plugins are being used.
What is the best WordPress theme for SEO?
7 Best SEO Friendly WordPress Themes (Revised 2020)
1.1 GeneratePress (Free)
1.2 Astra.
1.3 OceanWP.
1.4 Hestia Pro.
1.5 Newspaper.
1.6 Genesis Framework.
1.7 Divi.
How do you know what plugins a website is using?
You can also find a website's theme and plugins through the source code. Right click anywhere on the webpage and click Inspect, then Sources >WP-Content where you will find the style. css sheet with the theme name, author, etc. You can then find the plugins used in the Plugins folder under WP-Content.
Which technology is used in website?
CSS is a language used to describe the presentation (the look and formatting) of your website, and it tells your browser what to show on your website. JavaScript is a programming language commonly used to create interactive effects within web browsers. These are client-side technologies.
How can I install GP premium?
Add GP Premium to your website From your Dashboard, go to Plugins > Add New. Click Upload Plugin at the top, browse and select the gp-premium. zip file.
Is WordPress SEO friendly?
WordPress is extremely SEO-friendly from the outset. It only gets better when you install an SEO-friendly theme and start using the awesome suite of SEO plugins WordPress offers. … Using WordPress as your site's content management system (CMS) is one of the best ways to do that.